Welcome and Thank you!
Thank you for checking out our original website for Mosaic The City – Community Unity Project Society.

Now that Mosaic the City is over 16 years old the Community Unity Project Society (CUPS) has a new website as well as a social media presence we maintain on our Facebook Page.

You can also view the legacy Mosaic the City Facebook page to look back in time and see where it all began!

After 9 years, we had built more than 30 projects across the CRD and included more than 5000 people. Very proud and excited to see what will be next.

Come and check out all we do and have been doing for the past five years, and keep your eyes peeled as we plan something super for our 10 year anniversary in 2013!

We are planning to build a whole new site – soon- if you know anyone who would love to work with a growing NFP, please give them our info.

In Community Unity,
Shylene & the Team. The purpose of the Mosaic The City Community Unity Project Society (CUPS) is to help create a world where people of all ages, from all walks of life, feel connected-in the spirit of "Community Unity"- to their neighbourhood, organization, municipality, region and the planet. We do this by creating a spirit, an initiative and an organization that brings people together in their neighbourhoods and organizations to:
Plan and create mosaic art pieces.
Record their community unity journey through written, video, photo and internet journals.
Celebrate their community and art building accomplishments
We also foster the creation of unity between neighbourhoods and organizational units through the creation of maps and routes guiding people to other community unity mosaic projects in their region and throughout the world.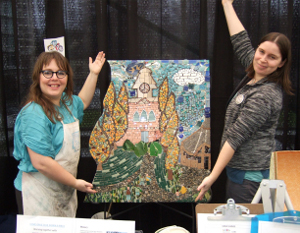 Camosun College Child Care Centre 20th Anniversary, Shylene Schlackl and Cat Thom
Get Involved Today!!
Quote of the Moment: "Choose a job you love, and you'll never work a day in your life"
--Confucius –