Mosaic the City Community Unity Society
~ A Community Development Programme ~
What?
Mosaic the City, is a multi-year initiative that will ultimately link the downtown core to other parts of the city via an art-lined artery. Project by project, neighbourhood by neighbourhood, friendship by friendship- creating Community Unity around this fine city.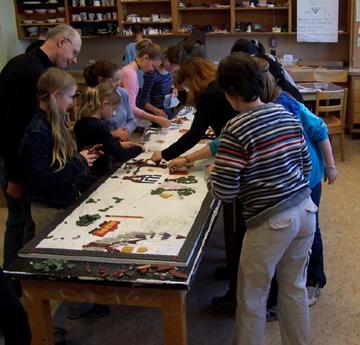 Central Middle School's Community Unity Project 2004, in Fernwood at the top of Fort and Yates Streets. This project brought together the school with the local Fire Hall, Craigdarroch Castle, Craigdarroch Care Home, the PAC, and Grace Lutheran Church. It was with the Community Unity of these groups and over 100 other people that designed and built the amazing 6 foot floor laid mosaic, for Mosaic the City's second project.
The summer of 2003 we held the first Community Unity project, Mosaic the Market 2003, in Market Square. Together with our associate partners, Out of Hand Gallery, Market Square, Rock Solid Foundation and Metamend Software and Design we were able to build five mosaics for the first project.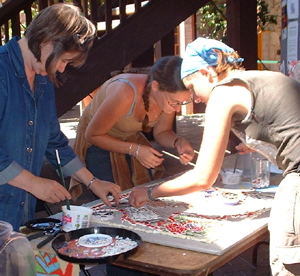 Each of these Mosaic the City projects is community designed and community built, bringing together the people of the neighbourhood to create art that will beautify their area of town. It will help bring people with different backgrounds, values and cultures together in a relaxed, creative and positive atmosphere.