Mosaic the City Community Unity Society
~ A Community Development Programme ~
Where?
Mosaic the City- Victoria is about the involvement of citizens and business owners of the Victoria's "neighbourhoods." Each project will be designed around a particular area of town. For instance the first project, Mosaic the Market, was located downtown in historic Market Square and it encouraged the people who live, work and visit downtown to join in the project
The second project Central Middle School's Community Unity Project wrapped up in June 2004 For more information check out the project journal.
The third project Mosaic Fernwood- Phase I was completed late summer 2004. To see the mosaics go to the 2400 block of Chambers Street. Or check out the online project journal. We are still looking for someone to lead the second phase of this project, so please drop us a line if you are interest.
The next projects are planning to be in various areas of town:
The Oakland's Haultain Corners Project
Is located in the upper Fernwood areas of town, and it will link to AVI's project. We are also hoping to work in the Fernwood area with all the community groups, schools and residences.
Rock Solid Foundation's Mosaic the TAG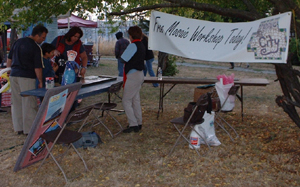 This project will be located around the downtown side of Vic-West and Esquimalt, creating a clear path from Market Square (560 Johnson Street) to Rock Solid's Track Side Art Gallery, (820 Hereward). This project is slated to begin workshops in 2005

All the projects will ultimately link together creating an art-lined path for walkers, bikers and others to enjoy while they travel through the various neighbourhoods of Victoria.

Mosaic the City Initative is a Global Ideal........

In fall of 2004 MtC's founding Director works in Ireland to start the second Mosaic the City Initative. Stay tuned for more information.. coming soon.


.